My girls love hands on work, and one of our favorite resources are the resources from GrapeVine Studies. We have used several of the books before: Birth of Jesus and Esther, and now we are reviewing Old Testament Part 1 Creation to Jacob Level 1 for Sophie and the Old Testament Part 1 Creation to Jacob Traceable for Bella as part of the TOS Review Crew.



First, if you haven't used GrapeVine Studies, please go take a look at their site. GrapeVine uses Stick Figuring (drawing) to integrate stick figures, timelines, words, symbols, and colors to teach the Bible. This unique Bible study will stimulate your student's imagination and engage their intellect as they see how the Bible fits together! Since we are all about hands on work, AND since my girls love to draw this has been a great way for them to literally draw their way through the Bible!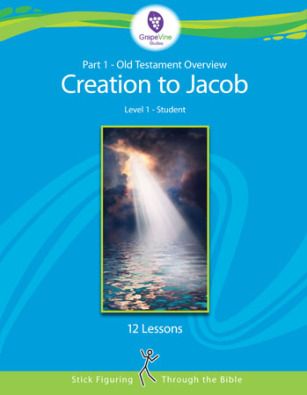 Since we are on Cycle 1 with our Classical Conversations studies this year we are working on Ancient History so the Old Testament Part 1 Creation to Jacob has fit in perfectly with our school days. The Book starts with the Time from Creation to Jacob, where the student learns the symbols to use as we start to work through the Bible. I need to note that the idea here is for SIMPLE stick figures that the student can draw easily, not elaborate pictures that take time. The girls (especially Sophie) love to draw and color, so we have a deal – she follows my instructions for the Bible Studies, and then she makes her own timeline with full color drawings!
After the Timeline pages, we dove right into Creation and started the Bible Study. While we have studied Creation before, I have to admit that this was a great time for review, since both girls had gotten a little fuzzy on some of the details.  The Bible Study is set for you to read a Bible verse (or two), talk about what you read, and then have the student draw the stick figures to reinforce what you just read.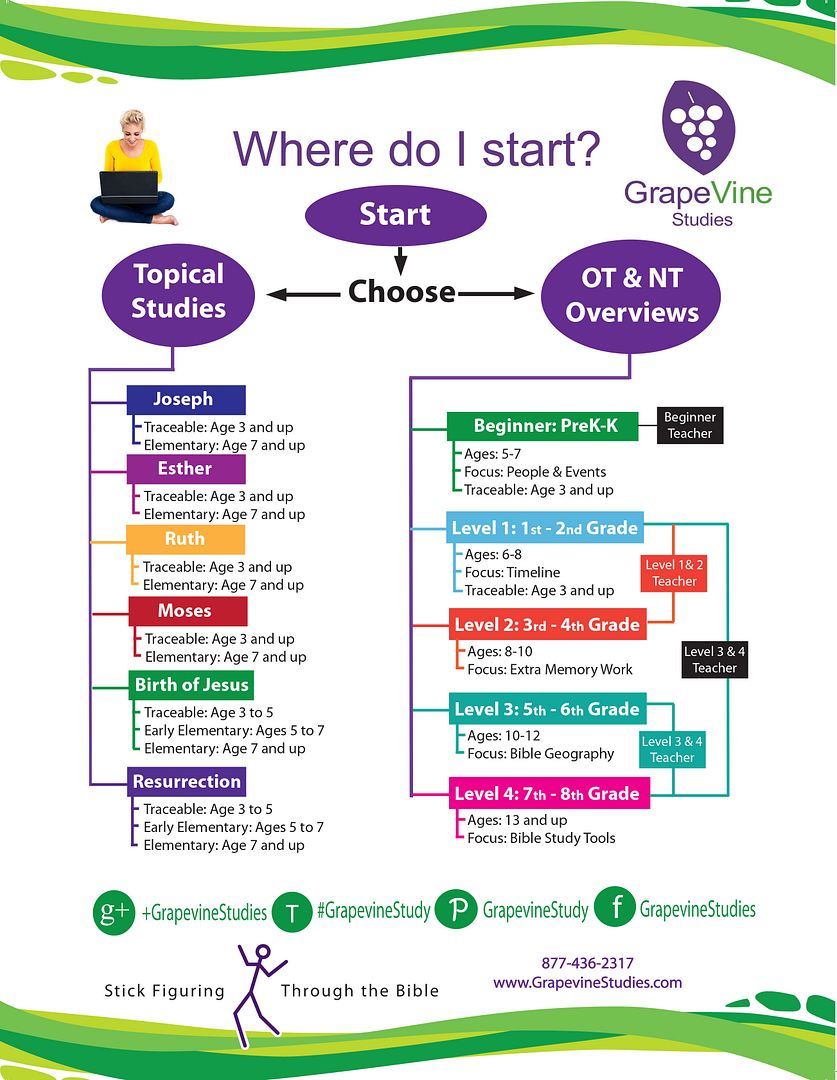 When we are all done with the Bible Study, I have the books bound at Staples and then the girls love to go back and read the stories through their drawings.  If you are wondering the best way to teach your child using the GrapeVine Stick Figure method, you can click for info on beginners (5-7) and Level 1 (6-8).  The Bible Studies go up to age 13, so I am anticipating using lots of GrapeVine Studies in our homeschool!
Note: the links included in this post may be affiliate links, which support this blog and allow me to provide giveaways to my readers. If you have any questions, please let me know. Thank you.