Every now and again I wonder how Sophie is doing in math. She seems to grasp concepts easily so we fly through lessons – but some days I feel like it's going way too easily! (hah!) I was able to get an Adaptive Placement Test and Individualized Lesson Plan from A+ Interactive Math to review as part of the TOS Crew, which I thought would help me to determine exactly where Sophie is on her math skills.


A+ Interactive Math provides a full math curriculum that is used by homeschool parents, as well as in public and private schools. The goal of A+ Interactive Math is to help students of all ages perform to their best ability using simple but effective instructions geared to make learning math fun and easy!
A+ Interactive Math offers some fantastic looking products such as: full curriculum books, workbooks, worksheets, supplemental CDs, online math curriculum for both single users and a family plan, and a placement test – which is what we were able to review.
The Adaptive Placement Test is supposed to help you find areas where your child might be struggling, and then you receive a lesson plan from A+ Interactive Math which not only identifies where the student is having trouble, but also gives you step by step instructions on how to help fill the *gap* of learning, per se.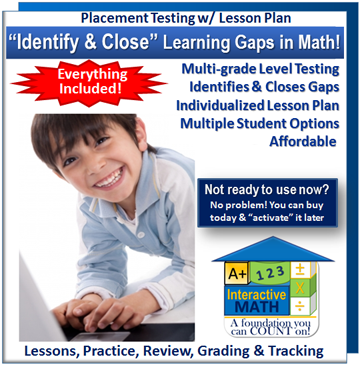 My thoughts:
I liked the idea of having Sophie take a series of short tests to see what areas we need to work a little bit further on.  This was the first time that she would be taking any kind of *test* so we didn't tell her it was a test, we just told her it was a program to see how she was doing in math.  Since Sophie loves math, she didn't question it and jumped right in.  The biggest issue was me!  Sophie isn't a strong reader yet, so I needed to sit with her and help prompt her though the questions. It was super hard to keep my voice level when I knew she got one wrong!!
After a few times through I realized that she could tell I was reacting to different answers so she would try again before entering her final answer.  I started noting when she was having trouble solving a problem so we could work on it again.  She stumbled a lot with adding columns of numbers – but because she would do them 2-3 times before entering an answer she would get it right.  So, even though she passed that particular area of the test, I know that we need to work on adding/subtracting columns of numbers. We also need to work on word problems, which is a combination of her not wanting to read and then fighting through the problems.
Basically, the Adaptive Placement Test gave me some good indicators on where she is – solid 2nd grade math with a few areas to work on. I love that we have a few more months of the software, so I'm planning on having her re-test in 6 weeks to see if I can see a difference.
The Individualized Lesson Plan is a neat feature, and I've worked some of the lessons into her weekly math schedule. Sophie has a tendency to get bored, so I have had to switch up her math and not do the lesson plans every day as suggested.  Over all, I think the lesson plans are a great place to start filling in the gaps that your student has!
There are some great FREE items that you may want to check out:
You can purchase the 3 month Adaptive Placement Test and Individualized Lesson Plan for $29.99 for one student.
Please click here to see what other members of the TOS Crew thought: