It's the end of August! Where did the summer go?
I've noticed that participation for the 3in30 Challenge is getting smaller and smaller. I personally love the accountability that I get from posting my goals each month. But, I'm wondering if it's time to give the Challenge a rest for the fall and start again in January.  I would LOVE to hear your thoughts – please let me know what you think!
This challenge is all about encouraging each other – make sure to stop by at least one other blog that is listed below in the link up and share the love!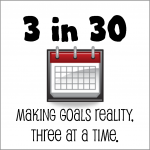 Write a blog post and add the direct link to your post below.
Comment on at least the person above you in the link up, and encourage them!
Link up right here….