It's JULY!!
The year is half over, can you believe it? As you look back on the year, are you happy with what you have accomplished? How is that yearly t0-do list going?
Do you have your goals ready for July? Link 'em up and let's cheer each other on!!
This challenge is all about encouraging each other through our link up – make sure to stop by at least one other blog that is listed below in the link up and share the love!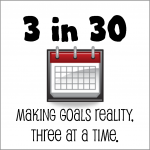 Write a blog post and add the direct link to your post below.
Comment on at least the person above you in the link up, and encourage them!
Link up right here….